Audrey McDonald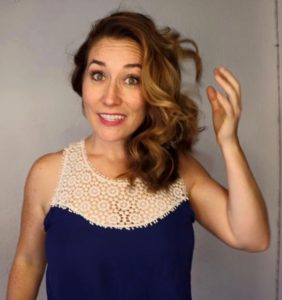 Hey there, Audrey here!
I am knock-your-shoes-and-socks-off-passionate about singing, travel, and changing my students' lives for the better.
For over 12 years, I have been a private vocal coach, both in-person and online. In addition to teaching, I've worked with clients all over the world—writing and recording songs, jingles, commercials, and even musicals.
I've taught folks of all ages, with all kinds of vocal challenges, and I've helped countless individuals improve their singing skills and gain confidence in the process.
Honestly? I've got the best job on the planet, pretty much.
I started off as an opera brat—#humblebrag, by age 15, I had already won state, national, and international opera performance competitions—but while training directly with Michael Jackson's vocal coach Dorian Holley, I was inspired to change up the traditional classical method of voice production and develop my own. And hey, that's not to say that my way is necessarily better…just different.
(Translation: it is totally better. Just saying.)
Forte Vocal Academy was my brainchild, and I was one of the first vocal coaches to combine techniques from the field of speech pathology with more traditional techniques for teaching voice—in other words, I saw the crossover and how it applied, and I used it to get serious results for my students. My work merited the honor of being named the top-ranked Music Instructor in Good Times Magazine.
Later, I was joined by my darling Danny, and we ran an extremely successful program there at the academy, with reams of raving reviews from our students.
We LOVED the work that we did in-person with the local students of the academy, but we wanted to think bigger and share our teaching methods to a wider audience. We closed up shop and have since switched over to all online teaching via Songs from a Suitcase. We blend travel and singing. I spend a lot of time actively studying vocal methods from around the world, and I bring that perspective into the teaching that I offer.
As vocal coaches, Danny and I take a holistic approach.
It's important to encourage great singing, of course… but it's also key to nurture folks' sense of self-empowerment. Our goal with students is to not only improve their vocal skills, but also to help them live fuller lives. When a person is confident and true to themselves, it shines through in their singing.
That means it's my job, and Danny's job, as teachers, to build up that confidence and call forth the natural brilliance inside each of our students. It is incredibly rewarding, and we feel so lucky to do that with our students online every day.
(Yeah, yeah. Secretly a couple of huge softies over here. Rub it in.)
We are literally living the dream, and we could not be happier to have you here with us on our journey as we run our wonderful business from the road!
Songs from a Suitcase allows us to balance our need for adventure with our need to make an impact on our students. We offer The Basic Course for folks who want to get a strong foundation for their singing skills.
We also offer custom tailored voice lessons with Just For You JFY as a follow-up for The Basics course, or as a separate option for those who might be preparing for an audition or special event.
A lot of our time these days is spent exploring the world, but I do offer a highly limited number of Skype lessons. Check the One On One page to see if there are any openings, and don't be surprised if they're all booked before our next takeoff!